Namalsk island
A part of Nightstalkers: Shadow of Namalsk modification..

http://download.nigh...malsk_v1.10.jpg (127 kB)

What is Namalsk?
Namalsk is a fictional island located in Bering Sea in Russian Federation. It is island with very complicated conditions for living. Island is covered mainly by coniferous forests and mountains on the south part are covered by permanent snow cover. Namalsk is hiding a lot of industrial objects., for example there is high transmitter Seraja in mountains, underground in object AII, big town Vorkuta and two harbors Tara and Lubjansk.
You can read more about Namalsk history here and also here.

What is Nightstalkers: Shadow of Namalsk?
Namalsk is only the part of this modification, full modification, with campaign on Namalsk island and more features (more info here or here) will be released probably in Q1-Q2 2011. Namalsk is using models of buildings from this mod and probably these models will be in this period more tune-up (added for more objects paths for AI, etc.). I tried to minimize size of this release, so, don't await full versions of all pbo's, there are only things, which are needed for playing on Namalsk.

Detailed description of Namalsk:

Very detailed islandCovered almost by new objects (buildings and smaller misc objects from Nightstalkers: Shadow of Namalsk modification)You can found on Namalsk big town Vorkuta, old hospital, small factories and villages, yard,2 harbors, mountains covered by snow, big agricultural object Jalovisko, UNDEGROUND object AII (since 1.10 patch new part!!), train tracks, deep forests and more and more.. SEE Screenshots below they tells more than wordsSince ArmA II, new island is near Namalsk, called TaraSince ArmA II, Completely NEW painted satellite mask with higher resolution.Since ArmA II, Enhaced quality of ground texturesSince ArmA II, Enhaced performance on whole islandTweaked ArmA II trees for better performance on NamalskYou can see map here

Here are screenshots from Namalsk in ArmA II
Main menu with Namalsk
Gray forest on north
North army base
In Jalovisko area, agricultural part
In Jalovisko area #2, village part
Swamp on north, near Vorkuta
Afternoon sun in Vorkuta town
Old yard on northen part
Road from west point to Brensk, Seraja above
West point
From Nitija
Mountains in clouds
From Norinsk, Seraja (see container for NAC)
View from Norinsk factory to Seraja and Ledjanajana
Sun above Norinsk
Namalsk mountains with Seraja peak and transmitter
Sebjan coal mine with rail track
Near Sebjan coal mine
Sebjan factory
Old hospital
In object of old hospital
NAC observation point on Tara island
Underground of AII
Underground of AII
Underground of AII
Underground of AII
AI object
Nitija
AII object
AII object
AII object
Details about 1.10 update..
New big patch for Namalsk island. Finally, after months of working on my mod (
http://forums.bistud...ead.php?t=87625
) i get some time also for island.
Included couple of changes (particullary based on reports by community). For more details, please, see changelog below..
New patch also changing appearance of underground, which have now also next floor. Mission makers are able to use module, which can spawn approximately 100 misc objects into underground.
New section on official website of the mod was also added - MODULES. Check
http://www.nightstalkers.cz
for more information about modules and their functions.
What is AII Laboratory?
AII object is a experimental object in ArmA II. It seems to be normal ground factory, but, under this factory is a 4 floor undeground.
This object exist since ArmA 1, 0.45 version, but, in this patch (Namalsk ArmA II 1.10) is object upgraded and got his final apperance. Added new floor, which is also particullary flooded with water. (see screenshots)
There are still problems, that underground isnt too dark in daylight, but, i tried to do with this something, so, underground is now darker and if you have turned shadows on, you get even better results.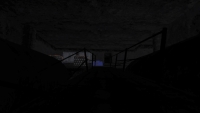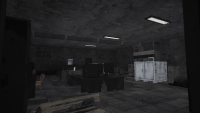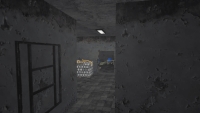 (Screenshots - at night with AII Module, underground lights turned on)
AII Laboratory module
Because was underground quite empty, i created module, which can spawn approximately 100 misc objects.
With these objects are spawned lights also. (this is not a abandoned laboratory (according to Namalsk Crisis story))
Default state - lights off, but..
you can control lights with variables:
* control variable
ns_aii_l_status
(0 = lights off, 1 = lights on)
* lights intensity variable
ns_aii_l_intensity
(i recommend very small values = 0.01 - 0.05, 0 = off (dark), 1 = fully on (not recommended))
You don't have to put init of these variables into some inicialization. You can control them during mission.
Maybe you will have problems with very strength glow, if you have postprocess details on maximum, try to set lower setting for postprocess.
Small example, how to try this module:
1
2
3
Color schemes modules
You can use them for changing color scheme in your mission. The only thing, which you need to get these modules working, is inserting module into your mission.
From the last version, modules was improved and they are now with priority (def, defgray, cold <=> 1501, 1502, 1503)
This release contains:
Namalsk island, v1.10Updated Nightstalkers data files (ns.pbo, ns2.pbo, ns_plants.pbo, ns_rocks.pbo,..)Part of ns_modules addon, improved color schemes and module for controlling uderground.All pbos signed with NST.bikey for safety use in MP
This release needs:
ArmA II (patches are optional, i think, it must work with all versions) (But, i recommend to you newest patch or beta patch.)
Changelog:
*Added: AII underground spawn module (spawns misc objects into undeground, you are also able to control lights there)
*Added: Extended underground of AII object, now with other floors (see details with release)
*Added: Added some objects to some locations, entrance to the AI and vehicle entrance to the AII object,..
*Added: New entrace in AII object into underground
*Added: Destruction animation for railroad bridge
*Added: Ambient sounds for Namalsk
*Added: More penetration materials added onto parts of objects (glass, wood, iron..)
*Changed: Changed to a better structure of Nightstalkers: Shadow of Namalsk mod, which is used by Namalsk
*Changed: Walking on objects have now a proper sound based on type of material (wood, plates, etc..)
*Changed: Namalsk is no longer default island
*Changed: Namalsk config adapted for further ArmA II patches (new cloads parametres)
*Changed: Rail-tunnels models reworked
*Changed: AI object have now geometry and better roadway lod
*Changed: Changed color of snow on satellite map (little)
*Changed: Improved color filters for Namalsk, now also with priority (def, defgray, cold <=> 1501, 1502, 1503)
*Fixed: Better bump maps for ground textures (particullary removes strange effect with old textures)
*Fixed: Issues with not working property "damage = no" in models, fixed by destrType="DestructNo"; in cfg
*Fixed: Tall grass model issue
*Fixed: Strange white artifact in lowres lod in small spruce model
*Fixed: AII underground is now darker and with shadows you get even better result
*Fixed: Improved configs (Thanks to Kju)
*Fixed: ArmA2.rpt related warnings to the Strange convex component
*Fixed: ArmA2.rpt related warnings to (class=house) missing object class
*Fixed: ArmA2.rpt related warnings to the updating base class
*Fixed: ArmA2.rpt should be now without any other warnings
*Fixed: Some object positions related issues (barrels in AII object, etc..)
*Fixed: Some issues related to the roadways on some objects
*Fixed: A lot of another tweaks in models (based on reports, thanks to reporters)
*Issue: There is unfor. still triangular poly bug on low terrain detail, only solution is set to bigger terrain detail (normal settings is enough)
Bugs:
If you found bug (except triangular poly bug), please, PM me or contact me via email (sumrak@nightstalkers.cz)! Thanks.
Thanks to:
GSC Gameworld - some sounds, textures and objects (like Sebjan factory and mine) from S.T.A.L.K.E.R. game
mikebart - texture for grass
SenChi - Skybox textures and edited grass texture by mikebart
Pikus - author of Chemical plant objects and wind powerplant
Saigos - for making a photos as data for Jalovisko buildings models
Apo - for testing Namalsk v1.0
Dokix2 - for testing version 1.10
..and Bohemia Interactive for great game
List of files included in namalsk_v1.10.7z

@Namalsk.bat
Keys\NST.bikey
Nightstalkers\Addons\namalsk.pbo
Nightstalkers\Addons\namalsk.pbo.NST.bisign
Nightstalkers\Addons\ns.pbo
Nightstalkers\Addons\ns.pbo.NST.bisign
Nightstalkers\Addons\ns2.pbo
Nightstalkers\Addons\ns2.pbo.NST.bisign
Nightstalkers\Addons\ns_modules.pbo
Nightstalkers\Addons\ns_modules.pbo.NST.bisign
Nightstalkers\Addons\ns_music.pbo
Nightstalkers\Addons\ns_music.pbo.NST.bisign
Nightstalkers\Addons\ns_plants.pbo
Nightstalkers\Addons\ns_plants.pbo.NST.bisign
Nightstalkers\Addons\ns_rocks.pbo
Nightstalkers\Addons\ns_rocks.pbo.NST.bisign
Nightstalkers\Addons\ns_sounds.pbo
Nightstalkers\Addons\ns_sounds.pbo.NST.bisign

Installation:
YOU DON'T NEED ANY PREVIOUS VERSION, PLEASE,
DO CLEAN INSTALL
(DELETE OLD INSTALLATION AND THEN EXTRACT THIS NEW VERSON)
You can run ArmA II with Namalsk using @Namalsk.bat. Pbo's are located in Nightstalkers folder.
Download:
The current version of Namalsk is 1.55, released for Arma II: Combined Operations and it is available to download with Namalsk Crisis Update 2 aka "Pathfinder", please check this topic: http://forums.bistud...ad.php?t=118731!
Hotfix for 1.10 version, 10MB, 7z*Fixed:
Namalsk ambients sounds are now played only on Namalsk (local settings)
http://www.nightstal...=namalsk_hotfix
1.10 version, 304MB, 7z
(links for 1.10 & hotfix)
Armaholic.com Namalsk v1.10
Armaholic.com hotfix
Thanks to Foxhound
(links for 1.10 & hotfix)
Armedassault.info
Thanks to Old Bear
(links for 1.10 & hotfix)
ePrison.de Namalsk v1.10
Thanks to Stavanger
(links for 1.10 & hotfix)
arma2base.de Namalsk v1.10
arma2base.de hotfix
Thanks to Miller
(hotfix included)
Six Updater Network
Thanks to Sickboy
(hotfix included)
nightstalkers.cz
I hope, that you will enjoy Namalsk
Sumrak,
mod leader and creator of Nightstalkers: Shadow of Namalsk mod
sumrak@nightstalkers.cz
http://www.nightstalkers.cz
http://www.xfire.com/profile/sumr4k/
Edited by Sumrak, 18 October 2012 - 14:18.
just update