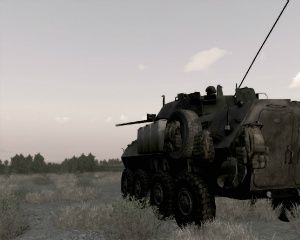 18 player CO-OP: Light Armed Reconnaissance - Zargabad
This is my first release, although it isn't my first scenario creation. Hope you enjoy it. More to come.
Description:
Classic 'search and destroy cache' objective. Play as two squads, each with one LAV-25 and dismounts (inc. 2 crewmen). Search for the cache/IED factory and destroy it. While it may not be particularly 'hard', the emphasis is on IED threat. Currently, I haven't put in any kind of IED detection/disarm script, so it'll just be pure luck. Similarly, I hadn't been able to find a suitable charge that injures the unlucky unit, so if a unit sets off an IED, it'll kill it. Satchel charges for demolition are located in the LAV cargo, although there are boxes when you start.
Requirements:
-ACE/ACEX/ACEXUSN
-Binkowski's US Marines
http://forums.bistud...nkowski marines
-Goliath's MEDEVAC module
http://forums.bistud...=medevac module
(possible issues with multiplayer)
Credit:
-BIS and the ACE guys
-Binkowski, Goliath, and 00dc15 (for his advanced IED script)
-Mike-USA for finally showing me how to spawn weapon/ammunition objects! (via his Camp Fallujah template)
-My ol' buddy ColonLOL Stagler
*Some of you more savvy people will realize there isn't actually a '5th LAR Bn' in the Marine Corps. I don't particularly like using active/real units, so it's all made up!
*I haven't PBO'd this mission, so you can edit the units etc as you see fit.
Rapidshare link:
https://rapidshare.c...AR.Zargabad.rar
Edited by TheOldBreed, 10 April 2012 - 22:11.