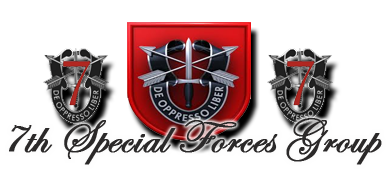 Website: 7thSFG

3rd Battalion, 7th Special Forces History: SOUTHCOM

Latin America
Special Forces were expanding into Latin America. In May 1962, the advance party from Company D, 7th Special Forces Group departed for Fort Gulick, Panama, in the Canal Zone, to establish the 8th Special Forces Group. 8th Group was deactivated in 1972 and the unit redesignated as the 3rd Battalion, 7th Special Forces Group. The entire 7th Special Forces Group was scheduled for inactivation on 1 October 1980, and was unfunded after that in the completed and approved US Army POM. General Edward C. Meyers reversed the decision after USSOUTHCOM briefings and discussions with LTG Wallace H. Nutting, the CINCSOUTH, and LTC Charles Fry, the 3rd Battalion, 7th Special Forces Group commander, regarding the growing threat to Central America and the need for U.S. Army Special Forces to respond to the threat.
Throughout the 1980s, 7th Special Forces Group played a critical advisory role for the El Salvadoran armed forces, which grew from a force of 12,000 to a total of 55,000 men. The Salvadoran military became a highly trained counter-insurgency force under the tutelage of 7th Group.
The 7th Special Forces Group also played a very important role in preparing the Honduran military to resist and defeat an invasion from Nicaragua. 7th Group also trained the Honduran military in counter-insurgency tactics, which enabled Honduras to defeat the Honduran communist-backed guerrillas.
7th Special Forces Group also became involved in counter narcotics operations in the Andean Ridge countries of Venezuela, Colombia, Ecuador, Peru, and Bolivia. The goal was not just to stop the flow of drugs into the United States, but to stem the violence that resulted from the drug trade in those countries.
During the 3 October 1989 coup against Noriega by some of his troops, members of 7th Group conducted reconnaissance operations near the road that led from the cuartel of Battalion 2000 to Panama City, giving the US Southern Command advanced early warning of the elite Panamanian unit moving to rescue Noriega, who was being held captive in the Panamanian Comandancia. Meanwhile, one 7th Group Company was being readied to take custody of Noriega. When the coup was over and Noriega was released, that company prepared a raid on the Carcelo Modelo where American Kurt Muse was being held for operating an illegal radio station that was broadcasting anti-Noriega programming. That mission was later turned over to 1st SFOD-D and performed on D-Day during Operation Just Cause.
From 19 December 1989 to 31 January 1990, elements of the 7th Special Forces Group participated in Operation Just Cause to restore democracy to Panama. The 7th Group conducted combat operations on D-Day against multiple strategic targets. Over the next two weeks, 7th Special Forces Group conducted many reconnaissance and direct action missions in support of the operation.
When combat operations ceased, Operational Detachments-A and -B fanned out over the entire country, living in villages with the people. 7th Group soldiers restored public utilities such as water and power while maintaining a watch on the (then) new Panamanian Police Force. Non-commissioned officers served as temporary judges and mayors gaining enormous support from the populace.

Global War on Terrorism
Since early 2002, the 7th SFG has deployed almost nonstop in support of Operation Enduring Freedom in Afghanistan. 7th SFG along with the 3rd Special Forces Group are the two SFGs responsible for conducting operations in Afghanistan. The Group has also deployed in support of Operation Iraqi Freedom numerous times, but not as often as Afghanistan. The 7th SFG has lost more SF soldiers in the Global War on Terrorism than any other SFG.



In order to join:

1. You must be at least 18

2. Have Arma 3

3. Be Mature and respectful

4. Have a working mic with Teamspeak 3 installed

Brotherhood will be left within the unit. So, No multi-units

Absolutely no hacking or cheating at any time.

And the ability to learn and have a strong mind set to work on unit G-Shops

_________________________________________________________________________________________________________


What we offer:

The training here at the 3rd Battalion, 7th Special Forces Group grounds will push you to your absolute limits. We want the best, so we train you for every situation you could possibly imagine. We will work with you and your time zones.

*Training includes, but is not limited to:

*Para Drop to be come certified Airborne

*HaLo Drops

*Advanced Flight Training for 160th SOAR

*Sniper Training, including firing range, distance, calculation and more.

*Mout course

*Navigation (Day and Night)

*Night Operations training

*Infil and Exfil procedures

*Communication

*Combat Diving

*Boat infil and exfil op training

Night operations/Joint operations:

Operations will be different times and places. They will be made by the ideas of the G-Staff command and will be hosted on the server every other weekends. We do have certain protocols that must be followed while either "Off" or "On" deployment statues (Visit our website for more information)

Servers:

Our servers will be announced on the official release of Arma III


We currently have spots open in the following areas:

11x - Special Forces Candidate (Jobs within the ODA will be at random)
153A - Rotary Wing Aviator

Selection/Assessment Training:

** Training is posted in the order that needs to be completed in!!

AAS - This is 2 days of training like you've never experienced. And it's all about game-play. Your intelligence, agility and resourcefulness will all be tested. If you make it, you can continue on to the selection papers/Interview and Army Airborne School.

Selection Process - Here you will fill out all of your paper work to become in-processed within the 7th SFG following the paper work will be about a 10 minute interview. Once complete, you will be inducted into Airborne School.

Airborne - Your next step will be to complete Airborne training. Airborne School is a unique experience requiring special dedication and a desire to be challenged mentally and physically. This two Day course, also known as Basic Airborne Training, teaches you the techniques involved in parachuting from airplanes and landing safely.

Airborne school is broken down into 2 days. The following explains the training you must complete for each day.

Ground Day:
You start with an intensive program of instruction to build individual ground skills. These skills prepare you to make a parachute jump and land and cover ground safely.

Jump Day:
During Jump Day, you must successfully complete five jumps at 1,250 feet from a C-130 or C-141 aircraft. If you successfully meet the course requirements you will be granted an additional skill identifier and will be authorized to wear the coveted "Silver Wing" on your uniform.


"Q" Course - The SFQC consists of two phases (III-IV). If you complete this training, you will be a Special Forces Soldier, one of the Army's experts in Unconventional Warfare.

Phase III; Individual Skills - This phase is roughly 3 Days and includes training in Small Unit Tactics, SF Tactics, Survival Skills and Cultural Training.

Phase IV; MOS Qualification - You will receive MOS training for your Special Forces MOS. This phase is about 5 Days long and includes SF Common tasks, Advanced Special Operations Techniques (ASOT), and Interagency Operations


Collective Training - You will hone your SF skills in a realistic Unconventional Warfare (UW) practical exercise. This phase takes about 1 Day.


LET - As an SF Soldier, you might receive training that completely immerses you in another culture. You'll learn to be fluent in that country's language, customs and traditions, becoming a virtual citizen of that country.

Website: 7thSFG

Please goto our Forums, and introduce yourself!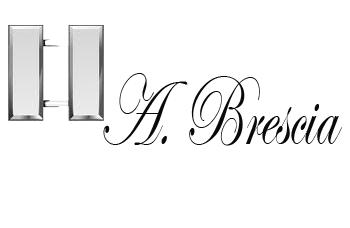 Signed,
PFC Brescia, Alec
304th TC US Army
Springfield, MA