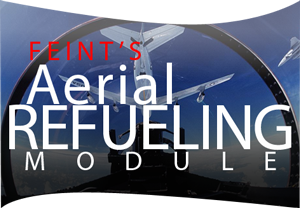 I was asked by VectorX96 to put something together to allow aerial refueling (aka tanking or mid-air refueling) chatter between a pilot and tanker. So I figured I would just throw together some various dialog that could go back and forth between the tanker and the low-fuel aircraft.
But after doing some testing, I decided to create something to actually enable mid-air refueling for any aircraft.
So far it's working pretty well. One of the nice things about this is that it is an alternative to people who don't use ACE2.
FEATURES:
Able to use both BIS C-130 aircraft as well as KC-767 from JSDF mod
Chatter back and forth between tanker and player
Vector to tanker from player aircraft, heading of tanker, altitude of tanker, speed of tanker, distance from tanker (when greater than 100 meters from tanker)
Distance from port fuel drogue or from boom arm (as you get within 100 meters of tanker)
attachTo locks aircraft to tanker during refueling (when within 2 meters of fuel drogue or boom arm)
customized placement of different aircraft types during tanking (including many addon aircraft)
accurate fuel loads for different aircraft in lbs
So far, I don't have a hose model so I'm just using a wall lamp as the refueling drogue (as a placeholder). Once you get within 2 meters of that, the refueling takes place. Watch this video for the beta version demonstration.
V3PIET_EmUA
BUGS:
On Chernarus, there's something wrong with the map because

BIS_fnc_dirTo

doesn't work correctly there. I read somewhere that the compass was reversed or something. But now I can't find where I read that. - FIXED (I think)

Is there a command which tells a script which map you are on?
EDIT:
MEMORY POINTS:
If you are making a plane or helicopter and want it to be compatible with this module out of the box, please name your memory point like this:
"refuel_probe" for compatibility with the drogue like on an F-18, AV-8B Harrier or most helicopters


"refuel_socket" for the receptacle like on the F-16 and F-22
Edited by Feint, 01 February 2013 - 03:37.