While managing our active community at
www.pzgrenbtl417.eu
i had to edit our "squad.xml" about once a week. Not that much work you may think, but some sort of annoying and error-prone...
So i decided to write a small web-based tool and as i found it somewhat useful to me i like to donate it to the community under the GPL3 licence.
Download-Link:
http://arma.airpress...ma_squadxml.htm
Some screenshots: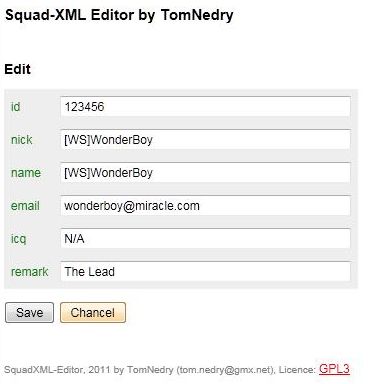 UPDATE
: 06apr2011
Remark
: To show your "squad.xml" on a website you'll need a DTD and XLS file too. Look here:
http://community.bis.../wiki/squad.xml
UPDATE
: 08apr2011
Minor fix. Download file updated.
UPDATE
: 31oct2011
Added: non-ASCII characters in textfields will be deleted to keep XML strict
Changed: New download URL
Update
: 03nov2011
Add UTF-8 support
Removed "Auto-removes all non-ASCII characters"
Readme.txt adopted
Edited by TomNedry, 03 November 2011 - 19:17.
Update